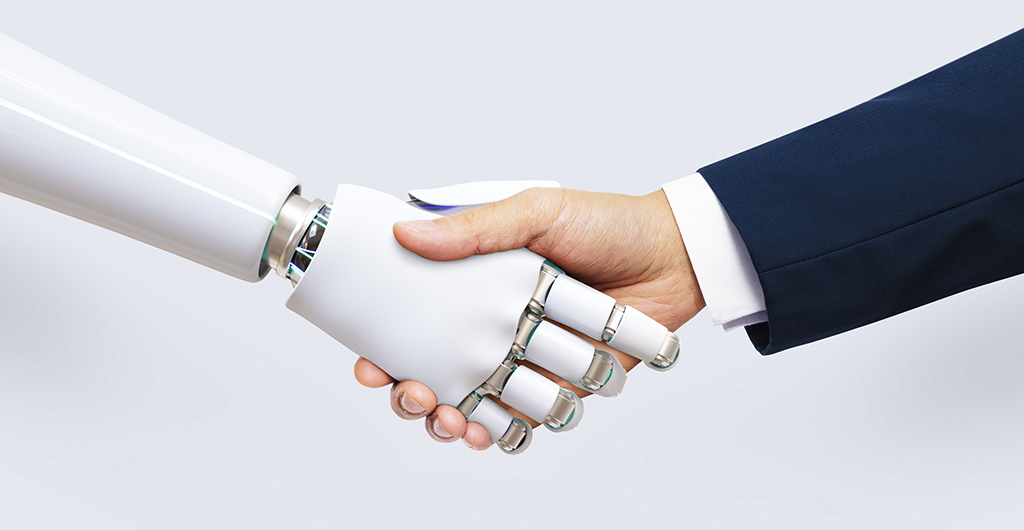 It's nearly impossible these days to read the news without coming across discussions about how Artificial Intelligence (AI) is going to make everything so easy that it will "eventually take away all our jobs". Such scary predictions are hard to challenge when the concept of AI is so vast and confusing.
So here's a definition: AI is a field of computer science that focuses on creating technology that can perform tasks that usually require human intelligence. It does so by gathering a large amount of data and "learning" from it. This "machine learning" trains computers to recognize patterns in the data to make predictions or decisions. As a result, it can be used to perform a range of tasks that humans usually do—only quicker, and (sometimes) better.
For job seekers and employers, new AI-driven technologies bring a huge and dizzying array of tools that claim to make hiring and job search better and more efficient. It's important to note that your job search already relies on AI in many ways.
If used thoughtfully, AI can be a helpful tool. But it is important to remember that there are still many ways in which humans are much better at job search than machines.
Let's look at some of how AI is already being used, some of the tools you might want to consider, as well as when it's worth relying on human skills to best navigate the job search process and stand out from the competition.
1. Optimizing Resumes and Cover Letters
When you upload your resume and cover letter to a recruiting site, ATS recruiting tools are used to scan, sort, and then select those that best match the employer's specific job descriptions. Some AI tools (such as JobScan and Zety) can be helpful for job seekers to analyze job postings, identify the most suited keyword, and optimize resumes and cover letters. They can help highlight relevant skills and ensure compatibility with the posting, which might improve the chances of the resume and cover letter you have submitted being identified by ATS and forwarded to the employer.
Another use of AI is to help with language, grammar and spelling (I use Grammarly for this – its Chrome extension has a useful free option for checking basic spelling and grammar, regardless of whether you are a first-language English speaker).
Cautionary note: some AI platforms offer to actually write your resume and cover letter, often for a fee. But there are some reasons to be skeptical of such offers. Firstly, there's no reason to spend money when there are organizations such as JVS Toronto that can help with writing a better, more personalized resume free of cost.
Secondly, you will be required to share a lot of personal information with the app for your resume. That information then becomes the property of the platform, which should raise some privacy concerns for users.
Third, and most important to the job search, the process of writing a resume and cover letter is very useful to prepare you for job interviews. The process gives you a chance to think and sort through your work history and skills and figure out how to describe yourself best.
Finally, text written by AI tends to be impersonal and uninteresting. Employers are also increasingly aware that job seekers will use these tools. It's possible that pretty soon, AI detectors will become part of ATS systems. When this happens, you don't want to be dismissed as someone who isn't willing to invest the effort needed to do your own job search.
2. Enhancing Job Search Experience
Many job search platforms (Indeed, LinkedIn) use intelligent algorithms to understand and match job seekers' skills, interests, and experience with job postings in real time. They categorize and rank job listings based on relevance, and they create a tailored job search experience for job seekers. This is why LinkedIn can impressively recommend jobs to you that you might not have considered, simply based on your profile, contacts and activities on the platform.
3. Interview Preparation and Practice
An increasing number of online apps and platforms are offering AI-based virtual interviews that simulate real interview scenarios and offer job seekers feedback and opportunities to practice their skills.
Cautionary note: These are still in the early stages of development and are not necessarily effective. Also, job seekers should keep in mind that employers rely on job interviews to evaluate interpersonal and communication skills, and despite AI algorithms' impressive ability to use data and identify patterns, it is not good at all at understanding the complexities of being human and building relationships. Humans still do that better, and a skilled employment counsellor/coach can do a much better job at helping you figure out how to impress an employer in interviews.
4. Personalized Learning and Skill Development
AI-powered learning platforms (LinkedIn Learning, for example) facilitate personalized skill development by recommending relevant courses, certifications, or workshops based on individual job seekers' career goals and aspirations. These platforms use machine learning algorithms to analyze user behaviour, assess skill gaps, and provide tailored learning recommendations.
By leveraging AI, job seekers can continuously upskill, often at their own pace, to stay competitive and adapt to the ever-changing job market. LinkedIn Learning is available for free through many educational institutions as well as public library systems.
5. Networking and Building Connections
To help you expand your network to people who might be helpful in your career, LinkedIn's AI-based platform analyzes information (data points) in your and others' profiles and identifies shared interests and locations. It then suggests connections to people with similar backgrounds or shared professional goals. This can help you expand your network, strengthen relationships, and tap into hidden opportunities. It also enables automated follow-ups, reminders, and personalized messaging to nurture and build professional connections that could help you with your job search.
So, to conclude: it is important to recognize that as technology evolves, AI will become an integral part of the job search process. Your challenge as a job seeker is to use the tools available with care, but be aware of the risks. Using too much AI to write your resumes and cover letters and prepare for interviews can result in you sounding more like a machine than a person, and won't necessarily help you stand out in the process. As we face new technology, we all need to strive to find a balance between using machines and keeping the human touch — after all, employers are still (for now) human.
---
Navigating the various things that come with employment search, including understanding the role AI could play in this, can be an intimidating experience. JVS Toronto offers free workshops that can help ensure that you have a resume and cover letter that can beat out AI-driven templates. Not only that, but our 1-on-1 personalized employment services can also help in using AI to your advantage, overcoming gaps in your experience history, and helping Newcomers secure Canadian experience, among other things! Reach out to us today to see how we can help you in your job search.