Recognizing client success, and the contributions of volunteers and employers, has been a staple each year at JVS Toronto's Annual General Meeting (AGM). On September 30th, JVS Toronto presented its AGM Awards to six very deserving recipients.
Avi Pollock, JVS Toronto's incoming Board Chair, mentioned that the awards ceremony is always his favourite part of the Annual General Meeting. "Whether they are being honoured as an employer who has made a commitment to use our services, or whether they are a client or a volunteer being honoured for making that commitment to better their lives or the lives of others, every recipient has trusted JVS Toronto in our ability to help them."
Congratulations to our 2020 AGM Award winners.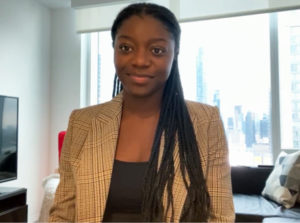 Zianne Small – Freedman Family Award for Young Entrepreneurs
This award recognizes a young entrepreneur who has completed one of JVS Toronto's youth entrepreneurship programs, and successfully operating a full-time or a part-time basis business.
Zianne joined the Youth Entrepreneurship Program when she needed help after launching her cleaning business, Elite Housekeeping. Before joining the program, Zianne was looking for ways to find the capital to grow the business and a strategy to break into the commercial cleaning market.
Through the YEP program Zianne received coaching on how to develop a business plan while gaining crucial knowledge in management, finance and marketing. With the grant provided by YEP, Zianne was able to purchase the essential cleaning equipment and hire staff.
Zianne is now the owner of a successful business specializing in cleaning both residential and commercial properties. She is a true entrepreneur and we wish her only success in her future.
---