The World Has Changed. Our Vision Has Not.
Thousands of individuals walk through JVS Toronto's doors every year in search of support that often goes beyond the need for a job. COVID-19 has had a profound impact on our health, economy, and labour market. Although the world has forever changed, our vision remains the same – every individual has opportunities for employment.
Your donation to JVS Toronto will:

Equip those affected by mass layoffs due to COVID-19 with the skills needed to rejoin the workforce.

Provide specialized support to those struggling with isolation and mental health concerns.

Link at-risk youth to education, life skills development, and on-the-job training.

Connect new immigrants to professional mentors and workplace language training.
---
Minimum donation of $18 required to receive a tax receipt.
Other Ways to Donate
Thank you for your interest in donating to JVS Toronto. We offer a variety of options to make giving easy.
In Kind Gifts
Goods, services, time, and expertise donated to JVS Toronto as aligned with our Fundraising Policy.
Property Gifts
Gifts including real estate, artwork, jewelry, collectibles, etc.
Legacy Gifts
A gift in your will or naming JVS Toronto as a beneficiary of a life insurance policy, RRSP, pension, etc.
If you have any questions or comments about donating, please call 416-649-1666 or email donations@jvstoronto.org.
JVS Toronto is a registered Canadian charity. Our Charitable Tax Number is 10753 5015 RR0001. View our Fundraising Policy.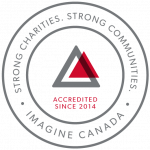 JVS Toronto is accredited under Imagine Canada's national Standards Program.
With this achievement, we join a growing community of organizations dedicated to operational excellence.
The Standards Program Trademark is used under licence by JVS Toronto.