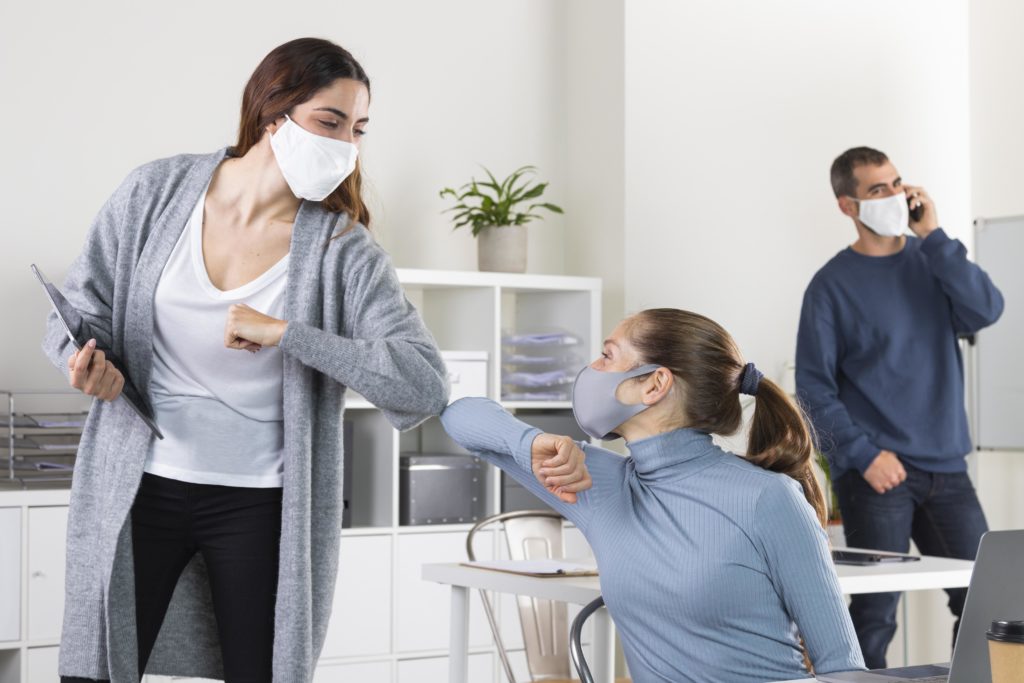 After years of working from home after "pivoting", "adapting" and find a way of getting things done in these "exceptional times", many remote workers are facing the prospect of returning to the office. Creating a new routine and find ways to be effective remotely was a challenge; but now that employers are summoning us back, many remote workers are starting to wonder if we truly want our old "normal" back.
Since the pandemic was declared in March 2020, a third of Canadian workers found themselves unexpectedly working from home. Many of us were not ready. Workers had to adapt quickly – some had to create makeshift workspaces, setting up an old table in their bedrooms, kitchens or dining rooms, and some had to figure out how to cope with the challenges of getting work done while parenting and educating their school-age children at home. Often, more than one adult was working remotely in the home. It wasn't easy.
Now, more than a year after the pandemic began, you'd think we would be happy to return to the familiar, focused and social environment we knew before. Nevertheless, many workers have begun to reflect on what they have gained and to wonder whether we could keep some of the benefits of this new arrangement after the "new normal" returns.
Looking back at the last year of working remotely, many employees are realizing that not all of it was bad. While working from home, we discovered that we could save money on the cost of commuting. We learned to enjoy the benefits of having access to our home facilities during the workday; it's also been enjoyable to have access to our pets, favourite foods, and even (sometimes) our family members during the day. Not having to dress to code (at least from the waist down) has been enjoyable. The ability to focus without interruption has been a gift to those of us who struggle to fight the distractions of noisy cubicles and chatty colleagues. Some workers have enjoyed not being under the tight scrutiny of our supervisors, maybe even surprising ourselves to discover how efficient and self-directed we can be when required.
Other benefits of the shift to working from home include learning new technology skills, as well as ways of using technology to make life easier. Many employees took the opportunity to engage in online learning, and have developed a passion for ongoing professional development that they hope to continue developing into their future.
On the flip side, many workers are struggling with isolation. Some have reported feeling unstimulated and less creative. We often underestimate how much we draw on creative ideas that come from casual chatter in hallways and around water coolers. Many at-home workers report that it is hard to set boundaries between work and home, with work stretching beyond designated work hours, and home life intruding on getting work done during office hours. Some people even miss their commute, which allowed them to change hats between home and work, as it were, allowing time to process and switch off work thoughts and refocusing on tasks at home.
What do workers want?
To gauge the thoughts of employees, we posted a poll on LinkedIn that asked readers for their expectations from their workplace after reopening. The results were striking clear: we want (70%) to be able to retain some flexibility to be able to work remotely, as part of our return to our much anticipated "new normal".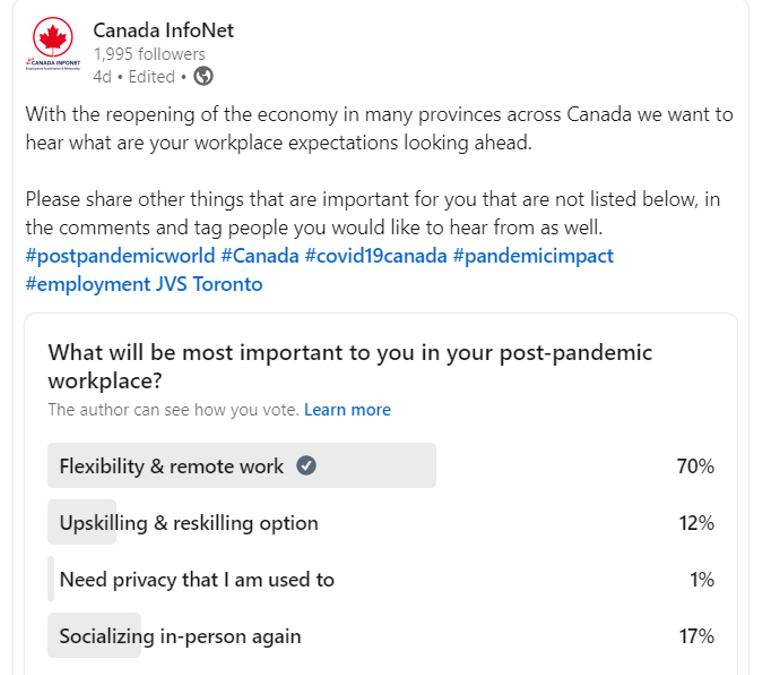 Worried about going back to work? Consider these actions:
Your current employer is likely working on figuring out how to bring back staff safely. But that doesn't mean that staff shouldn't voice their concerns and opinions to employers in anticipation, to ensure their needs and thoughts are included in back to work planning.
Here are some of the issues that might be worth inquiring about:
Safety measures and practices
Employers are obligated to ensure that workplace health and safety guidelines are established and enforced. The government of Ontario has posted guidelines about workplace safety on its website https://www.ontario.ca/page/covid-19-coronavirus-and-workplace-health-and-safety which details workers' rights, as well as measures taken by the ministry to increase inspection of workplaces.
The Province clearly outlines the fact that workers have a right to be in a workplace that screens people with symptoms and supports them to self-isolate (meaning enabling people to stay home from work if necessary), as well as to set up a workspace that enables physical distancing, ensures regular disinfection practices, and reduces in-person contact (for example, where reasonable, allowing for remote meetings instead of in-person).
Under the Occupational Health and Safety Act, workers do that the right to refuse work that they believe is unsafe. If health and safety concerns are not resolved internally, a worker can seek enforcement by filing a complaint with the Ontario Health and Safety Contact Centre (reachable by toll-free phone at 1-877-202-0008).
Accommodations
It is reasonable for employees to expect assistance from employers to accommodate their needs regarding continued practical challenges such as family obligations and medical concerns, and for employers to set up a process for these issues to be addressed properly.
Speak out about ideas regarding reopening
Seek out an opportunity to speak to your colleagues to discuss your preferences and concerns about reopening, as well as ways to speak to your employer about them. Consult with your union if you have one. Find a way to connect with your team members (without managers around, perhaps), using a chat app, email or even video. Ask questions about how colleagues are feeling and check in on their thoughts and concerns about returning to the office.
Check this blog for tips on ways of advocating for remote work. It's likely that if staff members present a coherent workable case for new ways of getting the job done, including options such as hybrid in-office/remote options, managers would be willing to listen. Help managers understand some of the benefits of such changes, such as reduced cost, improved service access and enhanced efficiencies.
To sum up
As challenging as it has been to shift to working from home, many remote workers have discovered the benefits of remote work flexibility and would like to keep them post-pandemic. Many also worry about the safety of returning to in-person work. Employers will likely be open to discussing and considering these concerns, and workers should speak out to make sure their concerns are heard.