From Handmade Clothing to Music Video Production, JVS Toronto's young entrepreneurs are brimming with ideas.
Not many students get to start a company this summer unless they're participating in JVS Toronto's Summer Company, funded by the Ontario Government. Toronto-area high school and post-secondary students have a unique experience developing their own business through workshops and one-on-one mentoring from experienced entrepreneurs.
Participants learn the nuts and bolts of running a successful business including:
Writing a business strategy and practicing their sales pitch
Identifying their target market and learning about customer relations
Developing their financial literacy and learning bookkeeping and invoicing
Taking advantage of networking opportunities and selling their brand
Budding entrepreneurs receive a grant to off-set costs of their new start-up.
On June 29, 2016, Summer Company participants showcased their products and services publicly for the first time at Staples on Dufferin Street in Toronto.
Youth-led businesses includes:
Leemaj, a handmade clothing line
RM Classique, a wig and hair extension company
Louie's Landscaping, a landscaping service
Ella, music video and videography production
Strategic Designs, web design services
Childhood passion transformed to new business
Meet Summer Company's Jonah Haber
Transforming his childhood passion for film into a career was a dream come true for Jonah Haber, 19. Jonah, a student at Ryerson, is a self-taught filmmaker using online resources as a guide. As a JVS Toronto Summer Company participant, Jonah is expanding his business to include music video production and developing a full-service marketing approach.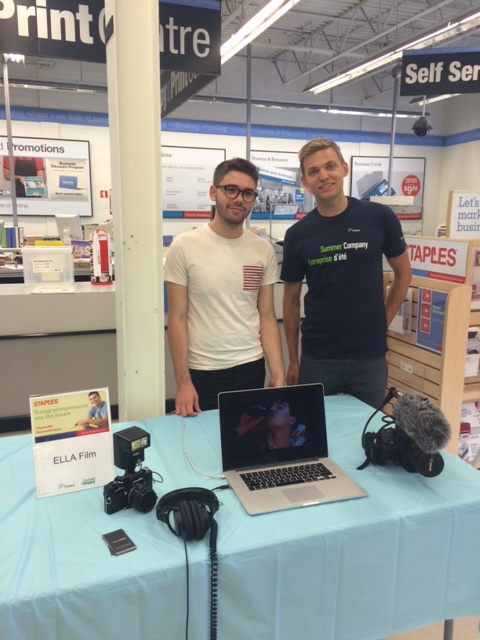 Jonah's Company:
Ella, a music video production company that supports his director and freelance videographer company, Haber Films.
Why Summer Company:
Jonah's experience gives him the chance to create a music videography service website and improve his networking.
"Summer Company is really pushing me to connect with the right people to get my name out there," says Jonah proudly.
Words of wisdom to young entrepreneurs:
Jonah advises, "Always take advantage of new networking opportunities!"
Think you've got what it takes to be an entrepreneur? See if you're eligible to participate next summer.
Celebrate Toronto's next generation of entrepreneurs!
---
Why You're Never Too Young to Be Your Own Boss (Part 2)
Why You're Never Too Young to Be Your Own Boss (Part 3)
---