Unique experience and "dream come true" for YCCS participant Ana.
July 30, 2015 – On a run-of-the-mill Friday in early June, Ana's dream came true. Since attending a volunteer orientation in December 2014, Ana had been hoping for a coveted spot as a Toronto 2015 Pan Am Games volunteer. Ana's "once in a lifetime opportunity" became a reality with a surprise phone call confirming that her application was accepted just one week before the opening ceremonies. Ana would be one of 10,000 volunteers supporting 6,100 athletes this summer in Toronto.
For Ana, this is more than just a unique volunteer experience. It's a chance for her to practice the skills she's learned as a participant in JVS Toronto's Youth Community Choices for Success (YCCS), a life-skills and vocational program for individuals with learning and developmental disabilities. YCCS supports youth, who have a dual diagnosis (mental health issues coupled with a developmental disability), with vocational planning, employment and life skills workshops, and assistance securing a volunteer placement.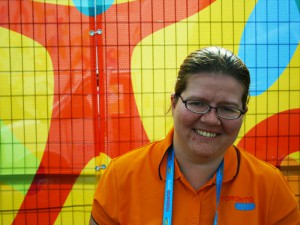 Coaching Ana throughout the Pan Am experience was Cicely Arthur, YCCS Employment Counsellor with JVS Toronto. Luckily, Cicely's volunteer application was also accepted and she worked alongside Ana for guidance on challenging tasks and demands during each shift.
"By working closely with each YCCS participant, we get to know their needs and challenges and can coach them according to their learning profile and skillset," Cicely explains.
A new job every day
First shifts for Ana and Cicely were at the Rogers Centre to welcome visitors and direct ticket-holders to their seats. The following week she was on duty at the Pan Am Park in Exhibition Place as a security guard, as well as a soccer game host that provided visitors with the experience of playing soccer while blindfolded. Each shift allowed Ana to apply the communication and life skills she'd been taught through YCCS.
"It was like going to a new job every day," says Cicely, who provided Ana on-the-job coaching and encouragement.
Cicely explains, "We'd role-play before each task, and I'd pretend to be a visitor looking for information in order to prepare Ana on how to act and respond."
"Each task became easier the more I did it," says Ana proudly.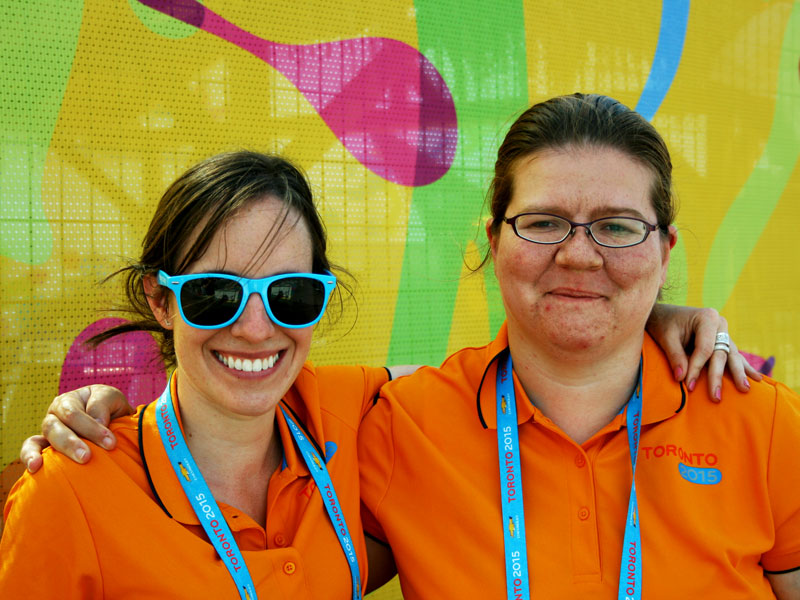 Challenges grew confidence each day
Workplace disability accommodation is a key aspect of YCCS to enable participants to integrate into work-like environments. Ana managed the hectic Pan Am environment well and was able to work for increasingly extended timeframes.
"Individuals with developmental disabilities often have a hard time communicating their needs clearly. A large part of our support involves coaching them on effective self-expression in the workplace," notes Cicely.
While many of the tasks were initially outside her comfort zone, Ana showed a tremendous level of adaptability and commitment to learning new skills, and completed her volunteer placement with new confidence and independence.
"My favorite moments of the Pan Am Games were watching the opening ceremonies, meeting new people every day, and the weekend gate security shift at the Exhibition Place," says Ana.
"I was able to leave her by herself for her gate security shift!" adds Cicely, who saw Ana's skills continuously grow throughout the experience.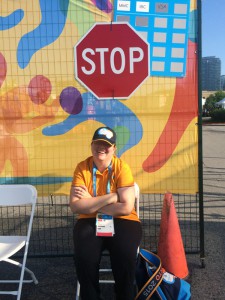 A valuable experience for all
Cicely believes it's vital to support individuals with disabilities to help them achieve the level of independence they strive for and provide them with opportunities for integration into the community.
"Without [programs like YCCS], we'd see many people with disabilities growing older, dependent on their families and government support. Many can experience a low quality of life by being homebound," she says.
"This is about so much more than just preparing people for work," Cicely states. "It's really about helping build a person's identity."
For Ana, her volunteer experience has been a dream come true, and she leaves with valuable work experience and memories that will last a lifetime.
To learn more about YCCS and JVS Toronto's disability services, click here.