Recognizing client success, and the contributions of volunteers and employers, has been a staple each year at JVS Toronto's Annual General Meeting (AGM). On September 30th, JVS Toronto presented its AGM Awards to six very deserving recipients.
Avi Pollock, JVS Toronto's incoming Board Chair, mentioned that the awards ceremony is always his favourite part of the Annual General Meeting. "Whether they are being honoured as an employer who has made a commitment to use our services, or whether they are a client or a volunteer being honoured for making that commitment to better their lives or the lives of others, every recipient has trusted JVS Toronto in our ability to help them."
---
---
Nadine Brown – Manny Mitchell Award for Excellence in Volunteerism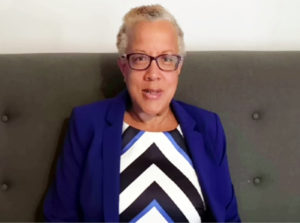 This award recognizes a dedicated volunteer who has demonstrated consistent commitment, dedication and reliability to both staff and clients.
Since February 2018, Nadine, who is a project manager by profession, has been a volunteer mentor with Canada InfoNet, JVS Toronto's pre-arrival employment acceleration and mentoring program for international professional immigrating to Canada. She is one of 237 mentors who help dedicate their time to helping new Canadians when immigrating.
Nadine has been described as compassionate, encouraging and committed. She enjoys helping others and takes the time to understand her mentees' challenges and goals to help them stay on track to meet their goals. So far, Nadine has helped 10 immigrant professionals and their families in their transition to Canada. She provides a broad range of assistance including tips on job hunting, networking, Canadian work culture, employee and manager relationships and even daycare advice.