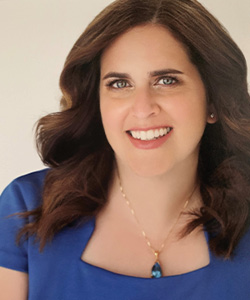 We are delighted to announce that Ariella Fuhrmann has assumed the role of Chair of the Board of Directors at JVS Toronto. Previously serving as the Vice-Chair of our Board of Directors and the Chair of our Agency's Pension Committee, Ariella has been an integral part of the JVS Toronto community since 2015. She has brought immense value to the Agency with her background in law, and over 20 years of experience in the pension and benefits industry.
During her remarks at JVS Toronto's 76th Annual General Meeting, Ariella stated, "By offering my professional skills and expertise, I aim to build upon the solid foundation that has been established in recent years, ensuring that the organization remains stable, resilient, and continues to make a lasting impact well into the future."
Ariella succeeds Avi Pollock, who served as Board Chair for a remarkable three-year term. She will be collaborating closely with Avi and the other members of the Board to advance the Agency's vision, mission, and our newly developed Strategic Plan.
We extend our heartfelt gratitude to Avi for the incredible impact he has made during his tenure as Board Chair and eagerly anticipate reaching new heights under Ariella's capable leadership.