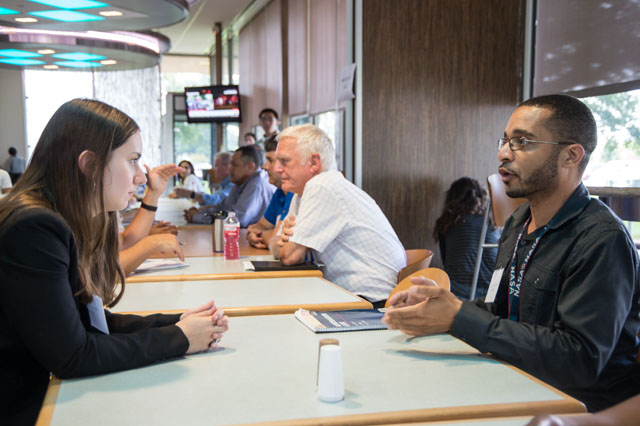 Large companies continue to modernize their recruiting processes to screen candidates faster. Traditionally, face-to-face and panel interviews were the standard. In recent years, telephone, online video, and group interviews have become more commonplace. Now employers are using speed interviews to sort through many qualified candidates quickly.
What is a speed interview?
Speed interviewing gives employers the ability to meet with multiple candidates briefly in an organized and controlled way. Ten to 15 candidates attend a speed interview. One person interviews each candidate individually anywhere from five to 15 minutes. This pre-screens candidates for selection for in-depth full interviews.
The article, Need to hire quickly? Try speed interviewing, describes how one startup company used speed interviewing to hire an account manager. This company publicized this hiring event on social media then reached out to qualified candidates to attend a speed interview event. During a five-minute interview, the interviewer asked four or five typical interview questions. Each candidate then moved on to three other rounds with different individuals.
After the interviews were all completed, candidates had a tour of the office. The interviewers met shortly afterwards to discuss their impressions and identify those candidates they regarded as "most promising". The selected candidates had an in-depth second interview. This enabled the company to make a quick decision, resulting in hiring a new account manager within 48 hours of the speed-interviewing event.
This example gives you an idea of how speed interviews work. Depending on the employer and the sector, the format and character of speed interviews will vary. Small companies and startups seem to favour this technique. You may also run across speed interviewing when recruiters or retail companies, for example, need to pre-screening candidates for multiple positions. Speed interviews give employers a chance to compare candidates and watch how they perform under pressure.
Preparing for a speed interview
If you have ever had a pre-screening interview, or answered employer questions at a job fair, then you've had a taste of what a speed interview has in store.
Preparing for a speed interview is similar to preparing for any other interview. The difference is being able to respond quickly and succinctly. The more prepared you are, the better you will perform.
Preparation and practice makes perfect
Prepare, then practice with a friend, or in front of a mirror.
Review the job posting and make sure you know it well, especially the requirements for and the description of the job.
Research the company. Review their website, understand their priorities and mission.
Know your resume well. Describe your work history fluently and clearly. Be ready to answer how this job fits with your career goals.
Think through why you are a good match for the job. Be prepared to market yourself as the best candidate.
Think of examples in your work history when you accomplished or performed activities that are specifically relevant to this job.
Practice your answers, especially common questions like, Tell me about yourself. Why should we hire you? What weaknesses and strengths do you bring to the job? What are your career goals?
Prepare questions to ask each interviewer.
Have your references ready.
PRACTICE again!
During the speed interview
Dress professionally but comfortably. You may be moving through various interview stations.
Bring a folder with everything you need: five copies of your resume, the job posting, your company research, your questions and answers, your reference list, paper and a pen.
Arrive early. You'll be more relaxed if you're not rushing.
Put your phone on silent and place it out of sight.
Bring a bottle of water and carry tissues.
Be ready to shake hands enthusiastically, make eye contact, smile, and speak clearly no matter how nervous you feel. Be prepared for a noisy interview room.
Collect business cards from each interviewer, or write down their name and email address for post-interview thank you notes.
After the interview
Write a brief thank you email to each interviewer separately after the interview.
Contact your references with the position you've applied for.
Be patient. Decisions take time. If you haven't heard anything after a couple of weeks, follow up with a brief email to your main contact, asking when you can expect a decision.
Remember, this is just another type of interview. The only difference is that you need to make a great first impression quickly with each interviewer. Good preparation and organization will give you confidence and that will lead to a great first impression!