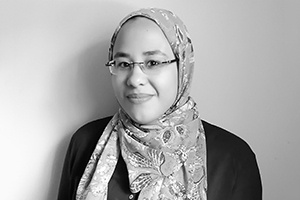 How I went from being a pre-arrival participant to a member of Canada InfoNet
We are always happy to share our program participant's success stories. This one is even more special: Yasmine participated in our program before immigrating to Canada and has recently joined the Canada InfoNet team.
My name is Yasmine and I took a risky decision and immigrated to Canada during the COVID-19 pandemic. I arrived in July 2020, but I had been trying to gather information about Ontario, employment, the weather, accommodation, etc. for months before landing. After receiving my Confirmation of Permanent Residency, I signed up with different pre-arrival programs. Some were general like Planning for Canada (who referred me to JVS Toronto's Canada InfoNet), and some were more specific to certain careers and industries.
After signing up with Canada InfoNet, I was matched with an Employment Specialist who was extremely helpful and informative. I had access to online courses that tackled job search skills and the workplace in Canada, and tools I needed for updating my resume to meet Canadian standards. I attended virtual job fairs and webinars organized by the program as well. All those interventions were crucial to creating a post-landing plan for me.
When I arrived in Canada, I started the long job-hunting journey. It's usually tough in the beginning for a newcomer to find employment, but with a pandemic it was even more challenging. Between exploring the GTA and applying to jobs, I took up some freelance work with UpWork. My background is in Human Resources and Administration, so I tried using that to my advantage. This allowed me to utilize my skills and learn new ones while staying more positive during hard times.
My own experience made me realize that I wanted to help other newcomers who were going through similar experiences. I've always been passionate about giving back and doing meaningful work, so it was a no-brainer for me to start shifting my job search methods and focusing on the non-profit sector. I compiled a list of organizations I wanted to work for, and the pre-arrival agencies I used were on the top of that list. I regularly tracked their Careers pages and kept an eye out for anything that matched my skills and experience.
This strategy proved to work for me when I found the Online Mentoring Administrator position for the Canada InfoNet program posted on JVS Toronto's website. I applied online and the rest is history. Now, I am both happy and proud to be working with one of the best services I personally used before immigrating to Canada. I believe that my success in landing a job with a leading non-profit organization could be attributed to using available resources prior to landing in Canada and being patient and flexible enough to change course when the current methods just don't work.
Yasmine's Employment Specialist from Canada InfoNet program shared that she was a very engaged and determined participant. She asked questions and clarifications when needed and successfully completed all the components that were outlined by the program. He states, "I was proud to have been Yasmine's Employment Specialist, and now to see her join Canada InfoNet as a team member. I wish her continuous success in her career in Canada."
Welcome to the team Yasmine!
---

Every individual experience in immigration and job seeking is different and with its own challenges, which is why, creating your personalized job search strategy is very important. If you have been approved for immigration, our Employment Specialists at Canada InfoNet can help you develop that strategy even before you come to Canada.