The theme for International Women's Day 2021 is #ChooseToChallenge. In recognition, we reached out to some of our mentors and former program participants to ask them what challenges they faced as immigrants, to tell us their achievements, and what they chose to challenge in honour of this day. We featured some highlights in our newsletter and here you can learn more about the journeys of these amazing women.
---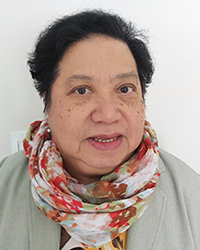 Veronica Seeto – Canada InfoNet Mentor
My immigration journey started in 1965 at age 13 with my parents and three other siblings. What is remarkable is that my father was 56 and this was his second migration to achieve his vision for a better education for his children.
I was the first woman in my family to graduate from University. Some of my success can be attributed to inclusive and equitable policies in the Canadian educational system in the 1960s and 1970s. I had access to high school and entered the Innovative Co-op Math Program at the University of Waterloo. While being engaged in a full career in the IT sector, in 2005 I started mentoring IT professional immigrants to help them with their career transition to Canada.
My #ChooseToChallenge is my leadership work with WINS Toronto to promote inclusive and equitable policies in the Canadian workforce. I appreciate how WINS aims to help immigrant professionals achieve greater success. Only by breaking down societally created barriers can we create an inclusive gender-equal world.
---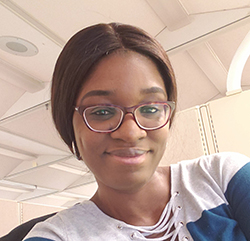 Olabisi Adesina – Canada InfoNet Mentor, Former Participant
As an immigrant woman who landed 4 years ago from Nigeria to Saskatchewan, it has been an interesting journey with highs and lows; I doubt any advice or training can prepare us immigrants; we just have to learn/adapt/evolve. While I did go for a whole day preparatory session in my home country, the euphoria of being a Canadian permanent resident made me deaf to all the predicted issues – weather, social, economic, professional, financial; the psychological shift and the huge adaptation required to navigate and thrive.
The major challenge I faced was psychological – the race to adapt to the new environment; I did not expect this challenge and the one I expected did not happen – professional/career. We watch movies and idealize Canada, we tend to think everything is so easy here, and arriving and seeing that there are challenges is a shock. For example, finding affordable childcare can be a challenge and that is a shock, it wasn't something I had to worry as my kids are older, but it's more challenging if you have little kids. The driving is different, the shopping, the daily life things are different. Not having extended family or community to help with that – we don't expect the difference it makes.
My biggest achievement is my ability to apply my professional experience in the workplace here with huge successes and adaptation to the corporate environment seamlessly. For example, in the job I am now I was the only woman, immigrant and black person in the group, after me they hired four more people, including two women.
#ChoosetoChallenge – Don't let the gender inequality affect your goals and distract you from them; focus on being the best and doggedly choose to surmount. Do what you want to do, focus on that; don't let anything hold you back.
---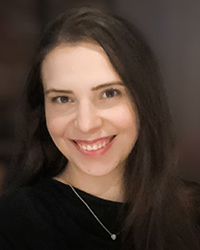 Nour Alsoori – Canada InfoNet Mentor, Former Participant
I am originally from Damascus- Syria but I was working in Dubai as a Project Manager before coming to Canada. I landed in Canada in September 2018.
One of the challenges I faced was dealing with people who underestimated me or tried to take advantage of my situation. Some people have told me that I should forget about my ten years of experience and start from scratch, others wanted me to work for free in exchange for experience, and others promised to mentor me but never showed up to our meetings. It is very important not to let these negative voices take you down and to continue believing in yourself and your abilities. Today, I am a Senior Project Manager at City of Toronto, working on a couple of the City's mega projects. Also, I recently started my second Masters at the University of Toronto.
I #ChooseToChallenge prejudice against immigrant women's competence. Immigrant women are ambitious and motivated; They are willing to take risks and to prove themselves in every sphere of their lives, and that's what makes them so valuable.
---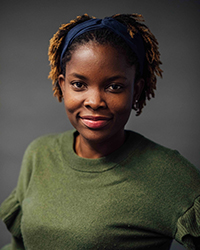 Notey Akpotive – Former Canada InfoNet Participant
I currently work as an HR Partner for a global tech company. Almost 3 years ago, I moved to Ontario Canada, straight from Lagos, Nigeria where my family is from and began the journey of settling into life as an expatriate – what some people call immigrants – here in Canada. Prior to that time, I'd worked for about 7 years in Human Resources for General Electric in Nigeria.
I faced a lot of challenges as would anyone moving to a new country, new continent, new weather, new lifestyle. I was surrounded with so much newness, it was jarring. Thankfully, the language wasn't new for me, though now I thoroughly empathize with anyone who moves to a new place and has to learn the language of that new place, because even though I speak fluent English, there are so many Canadian isms I'm still getting used to. The challenges I faced ranged from the seemingly mundane like getting lost the first time I was in downtown Toronto, failing my first Drive test to looking for a job that was going to help me build my career and dealing with the various stages of culture shock. These were all things I had read about and researched extensively on but was still difficult for me to live through day by day. Moving to Canada also made me realize visiting a place and returning "home" isn't the same as relocating to that same place.
I'm thankful for and celebrate the personal strength and courage it took for me to make the decision to move across the world. And the stamina that kept me going everyday through the small and big challenges I have faced. We focus so keenly on big milestones and while those are great, the self-discipline that comes with putting one foot in front of the other and staying hopeful everyday needs to be celebrated. That is part of what gives you the edge to achieve those personal goals you have set for yourself.
I #ChooseToChallenge the ignorance and negativity that surrounds black immigrants moving to Canada from anywhere in the world, especially from Africa. We are living in a time with so much knowledge at our fingertips where everyone can research and learn and do better. Yet some of us continue to peddle stereotypes that are untrue, ignorant, or just plain hurtful. We all bear a responsibility to do better for ourselves and for our generations to come. I'd like to see that begin to change in my lifetime
---
We celebrate all the women in Canada, who are making their way besides all the challenges. May we all help reduce the inequalities and choose to challenge gender bias.