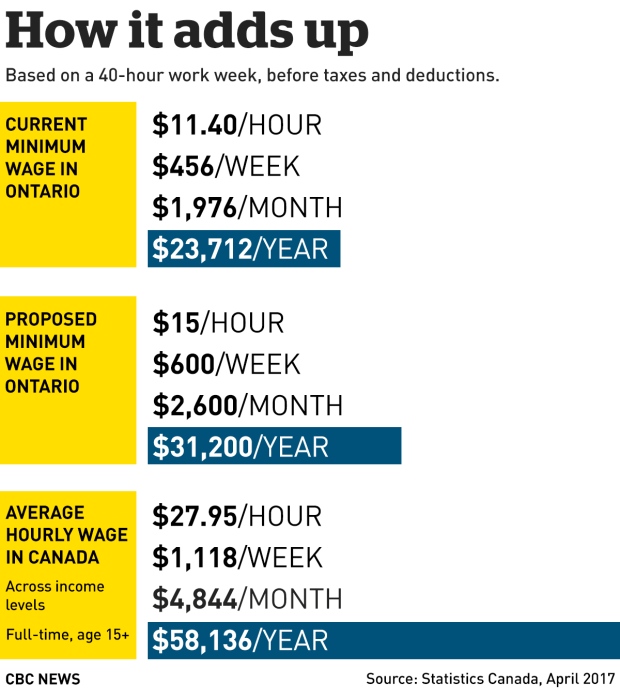 In October 2017, Ontario government passed the Fair Workplaces and Better Jobs Act, raising the general minimum wage in the province to $14 per hour on January 1st 2018, and to $15 per hour, a year later on January 1st 2019. After that, the general wage will be increased annually at the rate of inflation. Other provisions of the act include:
mandating equal pay for workers who are doing the same job, regardless of whether they are working on a full time, part time, temporary, casual or seasonal basis
job protection for up to 17 weeks of time off, if a worker or their child has experienced domestic or sexual violence
requiring employers to provide at least three weeks of vacation for employees after five years with the company
requiring employers to make employee scheduling fairer, including paying for three hours of work, if a shift is cancelled within 48 hours of its scheduled start time
The public discussion about the Fair Workplaces and Better Jobs Act has focused on the $15 minimum wage raise, invoking both a sense of optimism, as well as some concern from both employers and workers. On one hand, minimum wage earners (there are an estimated 1.5 million workers in Ontario who earn below $15 an hour) have expressed enthusiasm at the possibility of earning more per hour and coming closer to affording the cost of living in an expensive city such as Toronto. On the other hand, many fear this may result in job losses if employers are not able to afford the increase.
While employers worry that they will have to lay off staff to survive, it's hard to predict the impact of minimum wage increases. Research findings are mixed; many describe job loss, while some analysts report that even though jobs might be lost in the short term, there might be a net job gain later (12 months or so after the increase). Other reviews into this issue concluded that "The employment effect of minimum wage is one of the most studied topics in all of economics… The weight of evidence points to little or no employment response to modest increases in the minimum wage."
The impact it will have on minimum wage earners is harder to figure out. Employees who survive the potential layoffs will most likely be better off, earning almost $600 more per month or $7,500 annually for full time employees. Considering that a full time minimum wage earner presently earns barely enough to cover the cost of the average monthly rent in Toronto (which is estimated at approximately $2,000), this could make a major difference to the quality of life for low income earners and their families.
It is possible that some employees might lose their jobs, or have their hours reduced. The provincial government is hoping that the stronger economy in Ontario will ensure that workers will be able to find other jobs, and is relying on social support networks such as social assistance, retraining support through OSAP and Second Career, and employment services such as JVS Toronto will help them transition to new, better careers.