A Message From Kim & Avi
Thousands of individuals walk through JVS Toronto's doors every year in search of support that often goes beyond the need for a job. The complex barriers our clients face can be discouraging and demoralizing. Employment is not just about a paycheque. It is also about the way work contributes to society and our overall well-being by providing meaningful focus for our lives. Work contributes to our physical, emotional, and mental health.
Over the past year, the pandemic has had devastating impacts on all of us. See our COVID-19 Timeline. Pronounced awareness of economic and racial disparity added layers of grief for the unemployed and underemployed. This extreme uncertainty has brought the value of equality, mental health and access to work to the forefront. Finding meaningful employment can serve as a beacon of hope.
COVID-19 has caused incredible uncertainty, but at JVS Toronto, we know we will come out stronger. Despite the challenges brought on by the pandemic, our vision remains the same – every individual has opportunities for employment.
Kim Coulter
President & CEO
Avi Pollock
Board Chair
By The Numbers

15,973 individuals served across all programs
48,310 unique services accessed by individuals
87% of clients found work or returned to school/training
165 clients supported in disability programs
5,571 new clients served originated from
137 countries
2,520 youth ages 15-30 served
2,124 assessments and counselling session conducted
6,465 employers in our database
2,494 job seekers attended job fairs and hiring events
900 individuals served across all Jewish community funded programs
1,661 people received job search support and/or mentoring prior to arrival in Canada
250 mentors dedicated their time to helping new Canadians
228 funders and donors generously provided support
4,630 volunteer hours contributed by 361 volunteers
1.6 Million minutes spent on video calls with colleagues and clients
86% of youth found work returned to school/training
169 internationally trained professionals in bridge training programs
Success Stories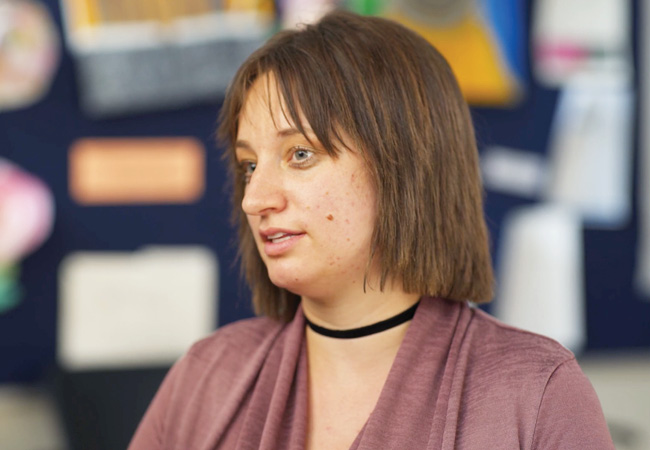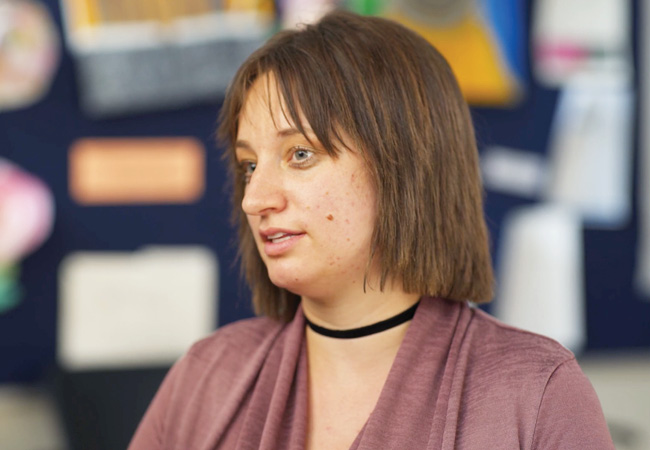 Meet Oxana
Oxana had a vision of what she wanted her career to be. However, she faced barriers as a result of her Autism Spectrum Disorder (ASD). She worked temporary contract positions and struggled to find meaningful employment. After completing our ASD Job Readiness program and learning how to disclose her challenges and advocate for herself, Oxana found a permanent job she enjoys as an Office Clerk at a residential construction company. She's happy with her new position and tells us she's "loving every minute of it!"
"Thanks to JVS Toronto, I have a knockout resume and cover letter. I found a job I enjoy and I am happy at. It really feels great."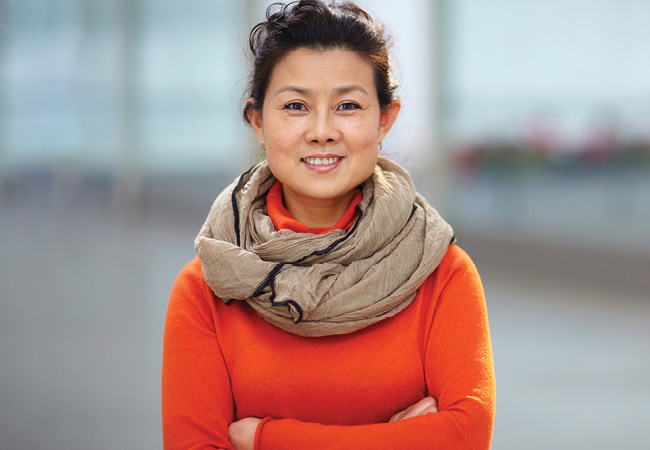 Meet Yvonne
Yvonne had a vision of a new life in a new country. Despite having 10 years of experience as a Senior Architect in her home country, she faced language barriers and a lack of Canadian experience which made it difficult to resume her career here in Canada. Yvonne enrolled in IPLAN; a bridge training program for internationally trained architectural professionals. She participated in technical courses with our partner Ryerson University, workplace communication classes, employment coaching, and several job search workshops. Yvonne's perseverance and willingness to learn paid off. Today, she is an Architectural Designer at one of Toronto's premier design firms.
"As an internationally trained professional, landing a job is not easy without an understanding of the local workplace culture."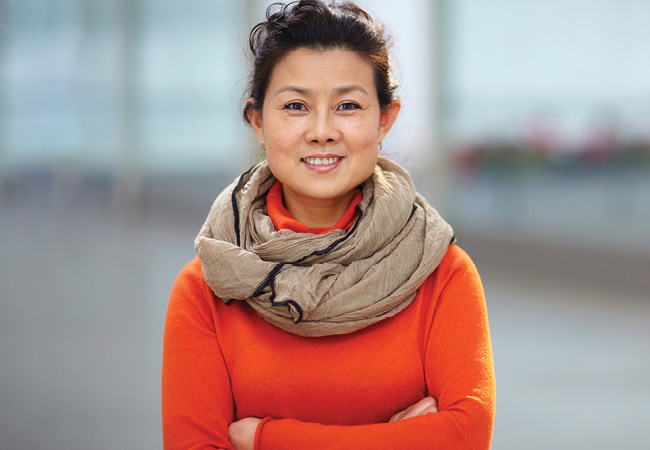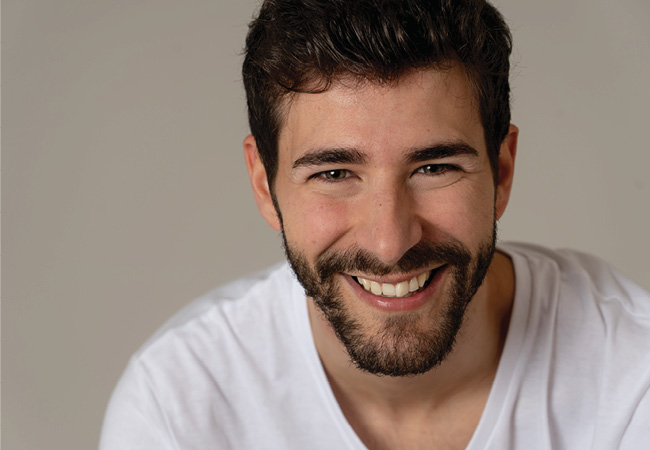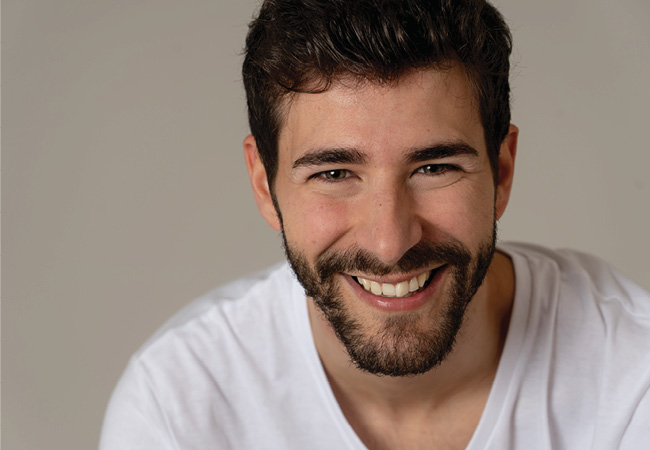 Say Hello to Levy
Levy's vision of the future did not include unemployment. Levy was happily working at a job he enjoyed when COVID-19 hit. His was one of the 355,000 jobs lost in Ontario as a result of the pandemic. He had worked with JVS Toronto in the past, so he knew where to turn for help. At Employment Source Toronto Centre, his Employment Specialist helped him update his resume and conducted regular coaching sessions to keep him motivated. Levy wanted a job that would make a difference in the lives of others. Today, he is working at a company that provides therapy tools for children with disabilities – a perfect fit for his values.
"I am comforted knowing you're there if I need your services in the future. I would recommend JVS Toronto to anyone!"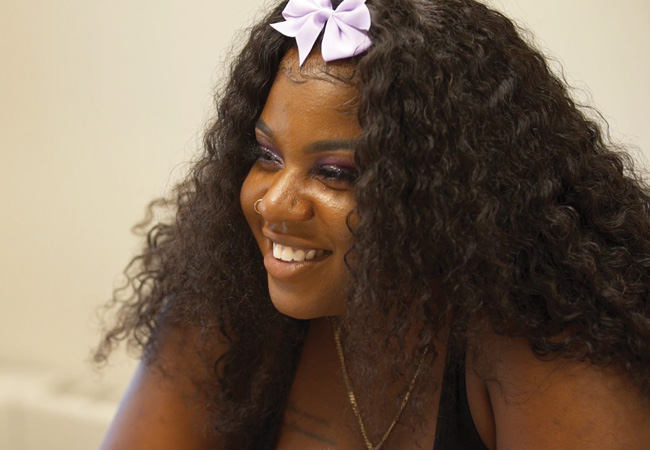 This is Kristina
As a young, single mother with past criminal involvement and no post-secondary education, her opportunities to find meaningful employment were limited. She was afraid of becoming just another "stereotype." Determined to do better, Kristina enrolled in YouthReach. She attended every interview, every counselling appointment and every training program. She had big aspirations for her career and was willing to put in the hard work it took to succeed. Today, Kristina is an Account Coordinator at a marketing firm – her first professional role. She is exceeding all expectations and building a better future for her family.
"It was really hard for me to find a job because of my past. Everyone looked at me as just a case number. JVS Toronto actually helped me."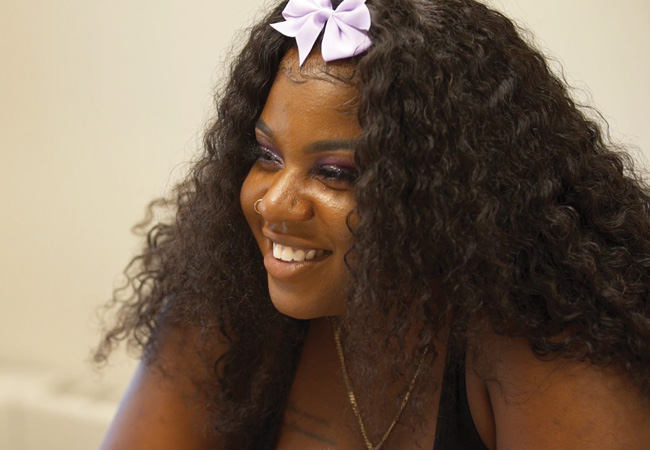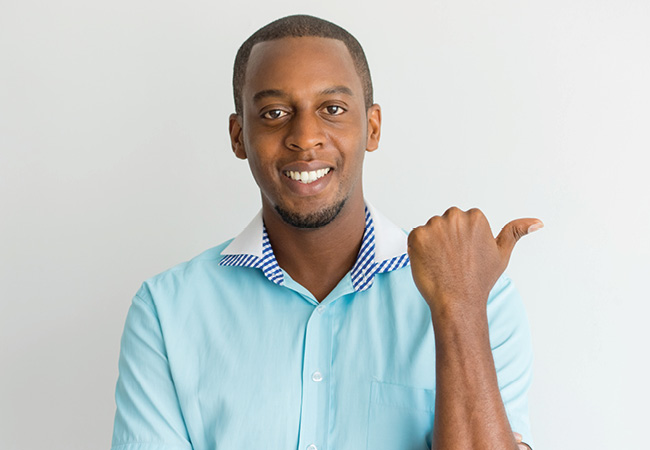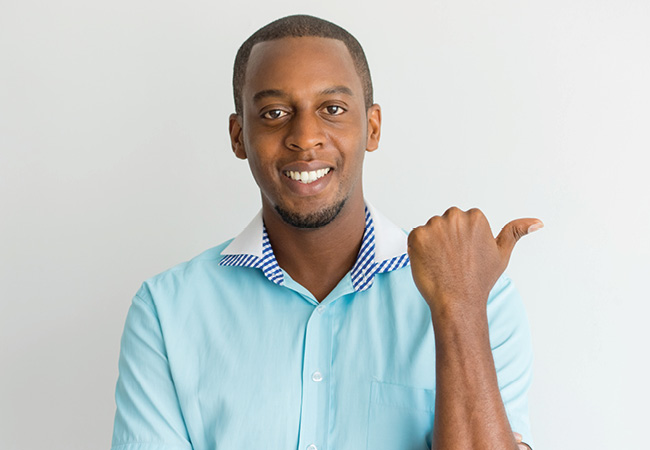 Say Hello to Nick
Nick wanted a clear vision for his career. He is creative, articulate, and hard working. However, lifelong learning challenges impacted his ability to find work. He was in receipt of social assistance when he was referred to our Career, Education and Psychology division hoping to find a new path forward. During his vocational assessment, it became clear that Nick had excellent spatial abilities and an eye for detail. He also discovered an interest in nature. With encouragement from his Career Counsellor, Nick enrolled in a horticultural training program. He found a job working at a nursery where he grows his own roses and is planning a career in floral design.
"Identifying Nick's passions and strengths was the first step in his journey to meaningful employment." – JVS Toronto Career Counsellor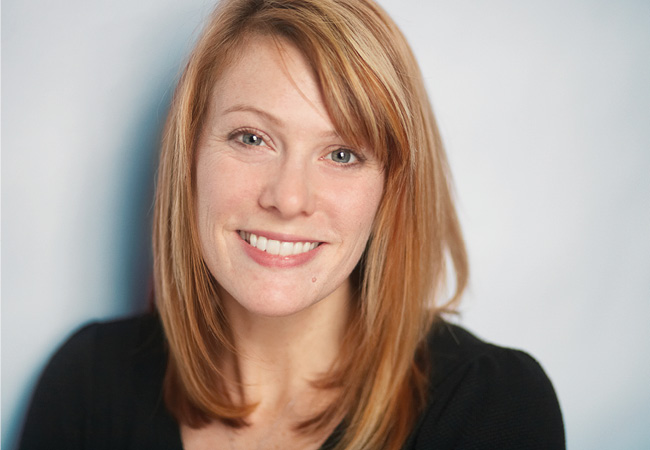 This is Mariana
Mariana had a vision of building a law firm employing skilled professionals. As a newcomer herself, she is a strong supporter of our mission to help people overcome barriers to employment. Since 2015, our Employer Services division have provided Mariana with the skilled candidates needed to build her company. Over the years, she has hired 27 JVS Toronto clients for positions ranging from Administrative Professionals, Paralegals, Law Clerks, and recently, a very excited Junior Lawyer. Mariana has achieved her vision of building a successful law firm while the clients she hired realized their vision of gaining meaningful employment.
"JVS Toronto helped me find many talented employees for my firm, most of whom have stayed with me for years."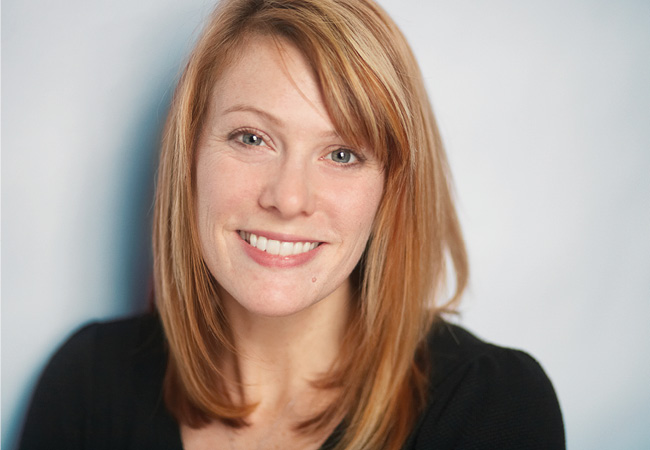 Our Supporters
Donors $500 – $50,000+
$50,000+
Freedman Family
$10,000 to $49,999
David Green, Daphne Wagner, Lita and Mikey Green
Cary Lavine and Sarah Paul
Holdbest Foundation
IPConnectX Corp.
Naomi Fund at the Jewish Foundation of Greater Toronto
Robert and Ellen Eisenberg
The Friedberg Charitable Foundation/Dov Friedberg
$5,000 to $9,999
Allan Brown Gary Bluestein Charitable Foundation
Gold and Shainfarber Family
Judith Teller Foundation
Phil & Shirley Shnier Fund at the Jewish Foundation of Greater Toronto
$1,000 to $4,999
Avi Pollock and Nicole Shuckett
Ariella Fuhrmann
Audrey Loeb and David Ross
Barrday Inc.
Brian Rowe and Katharyn Webb
Buddy and Leigh Eisenberg
David and Eileen Berger
Jeffrey and Lydia Goldfarb
John and Susan Rose
Kim Coulter and David Safarian
Mark & Mira Shnier Charitable Fund at the Jewish Foundation of Greater Toronto
Merle Friedman
Neena Gupta
Seraph Moshe Fund at the Jewish Foundation of Greater Toronto
Stanley and Rhonda Gordon
William and Helene Skolnik
$500 to $999
Aquatech Skincare Des and Anne Levin
Dr Barry and Helen Goldlist
Elliott and Wendy Eisen
Harriet Bain
Ivor and Renee Simmons
Moshe and Ena Greengarten
Murray and Ellen Blankstein
Paul and Carrie Habert
Rachelle Bronfman Endowment Fund at the Jewish Foundation of Greater Toronto
Robert Skolnik and Judi Swartz
Saul and Cindy Goodman
Stephen Price
Susan Siegel
Donors Under $500
Under $500
Ab and Phyllis Flatt
Abimbola Alabi
Adina Ander
Allan Black
Allison and Jay Steinberg
Amy Plourde
Anne Hertz
Anneliese & Walter Blackwell
Arielle Salama
Avi Berger
Barbara Abrams
Barry Sniderman
Baruch Lipinsky
Betty Cohen
Beverly Little
CanadaHelps
Catherine C. Ortved
Cecilia Mangilin
Charlotte Nowack
Cheryl Blinick
Clara Halpern
Daniel Wilson and Amy Ticoll
David and Nancy Goldbloom
David McCulloch
David S. Wilson Professional Corporation
Deanna Peranson
Debbie Hollend
Dhatri Nagar
Dolf Vomberg
Donna Friedman
Donna Kirsh
Dr Daniel and Beatrice Traub-Werner
Dr Ester Cole
Dr Melvin and Sandy Brown
Dr Morris (Mickey) & Maureen Milner
Elaine Cooper
Elizabeth Porter
Elizabeth Tarshis
Ellen Levine
Engelite Foundation at the Jewish Foundation of Greater Toronto
Erin Payne
Esterita Rajsky
Esther Moldofsky
Esther Szold-Bergman
Fern Silver
Fern Sussman
Fiona Orr
Fran Giddens
Francie Klein
Fred Levitt
Gail and Alex Motzok
Gerold and Roslyn Goldlist
Gerry and Sonia Rowan
Gil and Gail Faclier
Gilad Epstein
Glenn and Cindy Ip
Harold and Ethel Freeman
Harry and Esta Palter
Harvey and Carol Hacker
Harvey Kalles Real Estate Ltd.
Henry Vriesen
Howard Stevens
Hugh Furneaux
Ian Hendry
Igor and Bonnie Korenzvit
Irena Qatipi
Jack Pollak
Jane Herman
Janet Charendoff
Janet Schoel
Jon Ennis and Janice Karlinsky
Jonathan and Diane Wilson
Jonathan and Merick Kopman
Karen and Sydney Goldenberg
Karen C. Harr
Kathleen Barret
Laura Fernando
Lee and Ruth Abrahamson
Loretta Helman
Lori Bailey
Lorne Wolfson and Lorie Shekter-Wolfson
Ludmila Vocak
Lynda Goldlust
Lynda Roth
Mana Nikaeen
Mark Goldasic
Mark Libman
Mark Manalo
Marla Hertzman
Martin and Estelle Kosoy
Martin Rellin
Marvin Zweig
Marylka Empey
Megan Thomas
Melvyn and Marcia Eisen
Michael and Henrietta Kestenbaum
Michel Silberfeld and Susan Fremes
Mindy Pollishuke
Mitchel Smith
Mitchell Shnier Charitable Fund at the Jewish Foundation of Greater Toronto
Myra Slutsky
Nelly Teitelbaum
Nicole and Sean Diamond
Noah Shack
Olga Alekseev
Orla Mulvey
Paola Ritacca
Paula Keyfitz
Pearl and Richard Goodman
Pearlene Halfin
Peeranut Visetsuth
Peter Shenfield
Prabhas Jha
Ralph Orr
Randy Goodman
Rashmi Nathwani
Renee Levine
Rich Freeman
Risa Riber
Robert and Dorothy Till
Robert and Judith Habert
Robert Gauthier
Robert Herman
Robert Kanee
Rosanne Brown
Rubaica Fidvi
Ruthie Ladovsky Endowment Fund at the Jewish Foundation of Greater Toronto
Samuel Kolber
Sari Gilboord
Sharon Dagan
Sharon Herman
Sharon List
Sheldon and Marilyn Berg
Shelley Levy
Silvana Saballos
Simon and Gaby Fisch
Stacey Baker
Stanley and Gail Rapkin
Stephanie Chapman
Stephanie Van Es
Stephen Dafoe
Steven and Rodeen Stein
Stewart and Jacqueline Irvine
Tali Schwartz
Terri and Stephen Weintraub
The William G. Cole Foundation
Tigris Engineering
Title Textile Company
Waldemar Alves
Wayne Burns
Wayne Haymer
Wendy Glaser
Yelena Stepanyan
Yoel B. Abells
Yonit Fuhrmann
Zelda Melamed
Zhizhen Gu
Zita Gardner