Celebrating 75 Years
Thank you for supporting JVS Toronto.
Minimum donation of $18 required to receive a tax receipt. If you have any questions or comments about donating, please call 416-649-1631 or email donations@jvstoronto.org.
JVS Toronto is a registered Canadian charity. Our Charitable Tax Number is 10753 5015 RR0001. View our Fundraising Policy.
---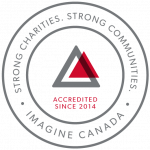 JVS Toronto is accredited under Imagine Canada's national Standards Program.
With this achievement, we join a growing community of organizations dedicated to operational excellence.
The Standards Program Trademark is used under licence by JVS Toronto.