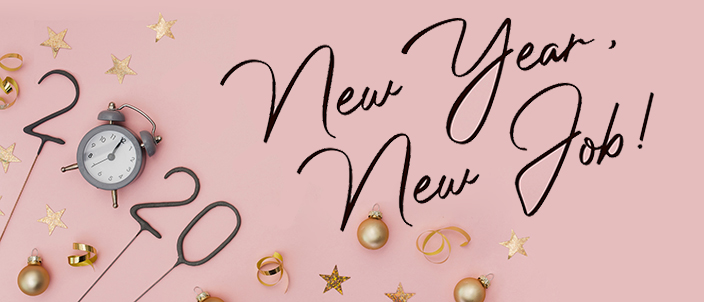 A new year means new opportunities and chance for job seekers to rethink their job search process. As the old saying goes, if you keep doing what you've always done, you are going to get what you always got. So before you ring in 2020, take the time to review your job search strategies and set some new goals.
Consider these resolutions to boost your job search:
1) Update your resume
A resume that appears outdated or incompatible with today's technology may give an employer the impression that you might not be ready for a new job. Applicant Tracking Systems (ATS) require that resumes are formatted to be processed and selected by a computer before ever being read by a HR. This means that a poorly formatted resume will not be selected, regardless of how qualified the applicant is.
Keywords are vital to getting your resume noticed. Update your profile summary and work history using keywords used by employers in their job postings. This will increase your chances of getting your resume past an Applicant Tracking System and into the hands of the hiring manager.
Tip: To make sure that your resume matches the keywords being used, try an online tool such as WriteWords or Jobscan to compare your resume with job postings.
Even a resume optimized for ATS should still be to be easy to read and pleasant to look at. When formatting your resume, pay attentions to things like punctuation/bullet points, fonts, and alignment. Print out resume and look through it. You can also ask for feedback from potential employers or network contacts.
Tip: For additional help with your resume, sign up for our free Resume Clinic email course or check out our Workshop Calendar for in-person resume writing classes.
2) Improve your online presence
Over 80 percent of employers use social media to screen candidates before hiring. Your social media presence can directly influence your employment prospects, and can impact on whether employers will find you, and whether they will consider you a good match to the job and the company when they do come across you in their search for candidates.
As a job seeker, you want to make sure that you are easily found online and that employers will be suitably impressed with what they see. A well-written LinkedIn profile will allow you to showcase your skills and make a professional impression.
Tip: Check your privacy settings. Make sure the content on your Facebook or other social media accounts is private and can only be viewed by your friends. Also, you may want to conduct a search of yourself online to see what employers might find. Don't just look for web results, check the images as well.
3) Update your skills
Keeping your skills up-to-date is vital to every job seeker. Whether you are a newcomer to Canada, recently lost your job, a mature worker, trying to overcome a gap in your resume, or changing careers, enhancing your skills is a worthwhile investment of your time.
Listing courses completed in 2019 (or even better, 2020) on your resume will reassure employers that despite being unemployed, you are still ready to hit the ground running at your next job. You may want to brush up on your programming or computer knowledge, language skills, management or any number of other skills that could improve your employability. Don't forget to add your newly acquired skills and experience to your resume and LinkedIn profile.
Tip: Check out our top 5 resources for quality training courses in Toronto.
4) Expand your network
You've heard it before; finding work is not only about what you know, but who you know. You already have a network of former colleagues, acquaintances and friends. Put them to work for you and leverage your network to get job referrals. The holiday season is a great time to reconnect with old contacts. If you can, meet with people in person; ask questions, get guidance, and make sure they know that you are looking for a new opportunity.
Tip: Start with LinkedIn. See who you know and who you would like to get to know better. Ask questions using LinkedIn's Messaging tool and approach the more responsive contacts for an information interview.
5) Boost your job search strategy
It is important to examine how you look for job opportunities, companies you have applied to, and the responses you are getting. Develop a job search plan complete with weekly goals to keep you on track.
Goals can include:
Write a list of the top 10 companies that you want to work for and where they post their jobs

Set up alerts on sites such as Indeed so that you are notified when suitable jobs come up

Make sure the employers and recruiters you have had contact with have your newly updated recent resume

Create your job search "

elevator pitch

"
Tip: When you follow a company on LinkedIn, you will get notified when those companies post new job opportunities. If you see a job that you're interested in, it is easy to apply for it on LinkedIn's Jobs tab or the company's LinkedIn page.
2020 might be the year you land the job you have always wanted. Keep these five resolutions and watch it happen.
For more personalized help with your job search, contact JVS Toronto or visit one of our nine locations across Toronto and York Region.
Happy new year from all of us at JVS Toronto!