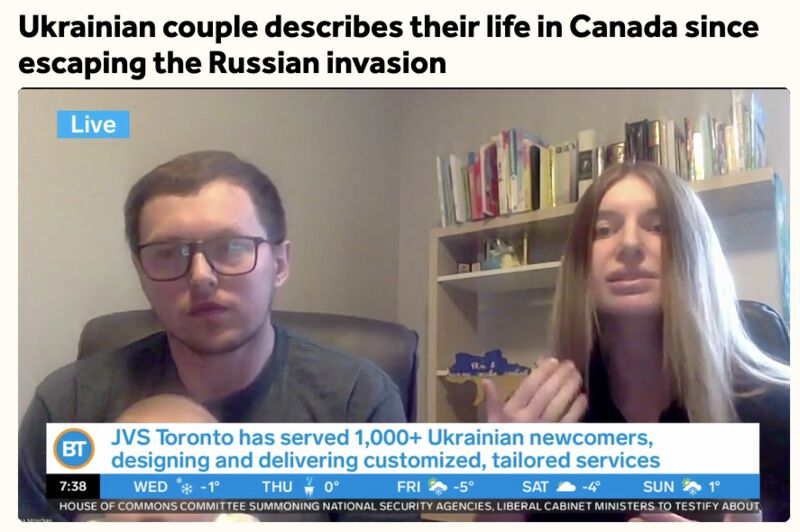 JVS Toronto clients Inna and Vitalii recently joined Tammie Sutherland on Breakfast Television to talk about their experience leaving Ukraine, settling in Canada, and how they found employment with support from JVS Toronto. Watch the full interview at breakfasttelevision.ca
Inna was a pregnant when she and her husband Vitalii fled the war and found refuge in Canada. They joined our EMETemployment program last May where they received the supports they needed, including tapping into the EMETemployment network of employer connections to make the right job match. Thanks to EMET staff's outstanding efforts the couple was very quickly placed in jobs. Inna and Vitalii have since welcomed a healthy baby girl and are adjusting well to life in Canada as a family of three.
We are touched by their story and are incredibly proud to have provided them with the support they needed to settle into their new home. They are just two of over 1,000 Ukrainian newcomers that have been helped by JVS Toronto since the war broke out a year ago.
Our Ukrainian Response Team continues to go above and beyond and work with community partners to ensure newcomers are getting the help they need. We remain committed to responding to urgent needs in our community, such as refugee crises, to ensure all individuals regardless of background have the opportunity to gain self-sufficiency through employment.
For more information on our services for Ukrainian newcomers, please contact 416-649-1708 or refugeesupport@jvstoronto.org.