After 32 years at JVS Toronto, Kim Coulter, President & CEO, is retiring. In honour of Kim's service and her start in 1990 as a front-line Career Counsellor, JVS Toronto has established the Kim Coulter Career Counselling Award.
This award will be presented at our Annual General Meeting to a JVS Toronto Career Counselling client who has demonstrated resilience, motivation and perseverance in overcoming personal obstacles in their life and has taken actionable steps towards realizing their goal.
Please use the form below to donate to the Kim Coulter Award fund.
If you have any questions or comments about donating, please call 416-649-1666 or email donations@jvstoronto.org. JVS Toronto is a registered Canadian charity. Our Charitable Tax Number is 10753 5015 RR0001.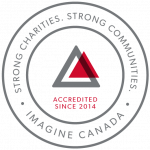 JVS Toronto is accredited under Imagine Canada's national Standards Program.
With this achievement, we join a growing community of organizations dedicated to operational excellence.
The Standards Program Trademark is used under licence by JVS Toronto.