JVS Toronto 2018-19 Annual Report
Unemployment's deep impact
The World Health Organization recognizes unemployment as a risk factor for mental health problems. The Canadian Mental Health Association cites unemployment and poverty as urgent concerns for all Canadians and that the presence of either may cause anxiety, depression, and other emotional and family problems. Complexity of needs is a growing trend among the individuals we see throughout our employment centres and across our programs at JVS Toronto. So this year, the theme of our Annual Report is "I am more than…".
When individuals come to JVS Toronto looking for help on their journeys to employment, there is often more to their story than what we see on the surface. Job seekers juggle a wide range of issues. Limited education, lack of English language skills, employment gaps, disabilities, and past conflicts with the law can all affect a person's path towards self-sufficiency.
The increase in stress and mental health issues among our clients means we are working differently. To find out how, download our 2018-19 Annual Report.
Previous Annual Reports
Financials
---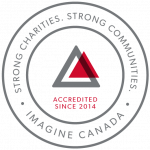 JVS Toronto is accredited under Imagine Canada's National Standards Program.
The Standards Program Trademark is used under licence by JVS Toronto.