JVS Toronto 2017-18 Annual Report
What if everyone had opportunities for employment?  Who would notice you speaking up for their needs? The Power of Influencing Change
This year's Annual Report showcases how JVS Toronto speaks up for those who aren't being heard. 
When people experience exclusion, disparity and instability, a slight change in circumstances can start the fall into poverty. A single voice can't change this. But our work collaborating with others strengthens our advocacy and leads to lasting change to ensure that everyone has opportunities for employment.
Previous Annual Reports
Financials
---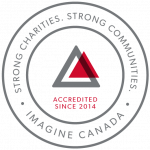 JVS Toronto is accredited under Imagine Canada's National Standards Program.
The Standards Program Trademark is used under licence by JVS Toronto.