Every year, JVS Toronto helps over 21,000 clients. We rely on funds from all levels of government, businesses and foundations, as well as the generosity of individual donors.
Support our employment programs by putting your dollars to work:
Buy a transit pass for a youth at risk to travel to a job for one month
Connect an individual with online job postings through our EMET Employment program
Subsidize a low-income family to obtain services that will help a child with a learning disability become more successful at school
Support life-skills planning for youth in priority neighbourhoods, thereby reducing the likelihood of their involvement in gang activity
Help newcomers enter the Canadian workforce
Assist a young person with Asperger's Syndrome to overcome social and emotional barriers by building communication and confidence to become ready for employment
Allow an individual re-entering the workforce to access re-training, skills updating and education that will lead to steady employment
JVS Toronto is a registered Canadian charity. Our Charitable Tax Number is 10753 5015 RR0001.
Make a Donation
JVS Toronto makes it easy for you to make a one-time donation, become a monthly contributor, donate securities or raise funds through a workplace campaign. Simply click on Donate to be redirected to our secure donations page.
Other Ways to Donate:
In-kind donations
Gifting of properties including such items as real estate, securities, artwork, jewellery or collectibles
Legacy gifts such as:
Leaving a Bequest (a gift in your will)
Creating an Endowment at JVS Toronto
Naming JVS as a beneficiary of a new or existing Life Insurance policy
Naming JVS as a beneficiary of your RRSP, RRIF or pension
Call 416-649-1666 or email donations@jvstoronto.org for more information.
Donation Policies
Download a copy of our Donations policies:
Imagine Canada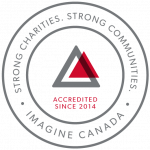 JVS Toronto is accredited under Imagine Canada's national Standards Program. With this achievement, we join a growing community of organizations dedicated to operational excellence.
The Standards Program is a Canada-wide set of shared standards for charities and non-profits designed to strengthen practices in five fundamental areas: board governance; financial accountability and transparency; fundraising; staff management; and volunteer involvement.
Trust is at the foundation of what matters to us, those who support us and our stakeholders. This designation enables us to demonstrate our commitment to excellence to earn that trust. The goals of Imagine Canada's Standards Program are to increase the transparency of charities and non-profits, and to strengthen public confidence in individual organizations and the sector as a whole.
Our policies and procedures in the five areas of compliance were evaluated by a group of volunteers from the sector, and were found to be compliant with the Standards Program. You can read more about this accreditation on the Imagine Canada site. If you have any questions, please contact services@jvstoronto.org.
The Standards Program Trademark is used under licence by JVS Toronto.