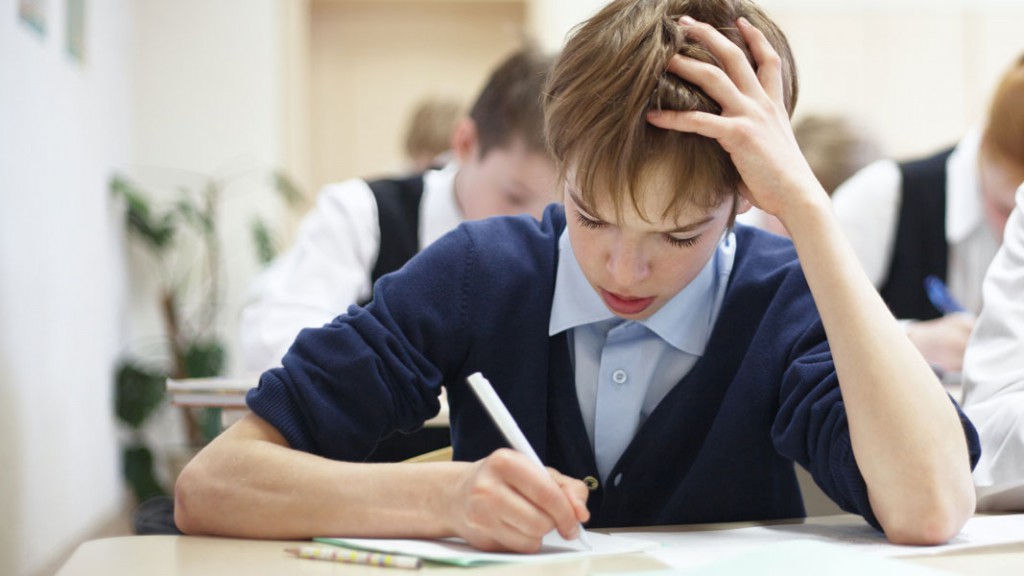 If your child is struggling in school, a psychoeducational assessment can provide a deeper understanding of their learning profile, strengths and challenges.
Learning disabilities, anxiety, or depression can often stay hidden and impact a student's performance and behaviour both in and outside of the classroom. If a student of any age is not achieving their full potential or encountering difficulties in the classroom, a psychoeducational assessment will identify the cause.
A psychoeducational assessment can identify learning challenges in students of all ages, from young children to adults.
"Could do better"
Has your son brought home a report card with this written on it? At parent-teacher meetings, have teachers confided that your daughter isn't achieving the results they feel she can deliver?
When my son was young he could never sit still in class. I would read books to him at home and ask him questions like "what is that?" or "who is this?". He'd just get anxious and walk away. When I started taking him to school, out of nowhere he started bolting out of the classroom and chasing me back to the car. I couldn't get him to go to school!
There are many factors that affect a student's performance in school. Low grades or disruptive behaviour can be the visible signs of hidden challenges. Children suffering from low self-esteem, stress and anxiety or an un-diagnosed learning disability are often unable to recognize or explain these feelings to their parents and teachers.
A psychoeducational assessment identifies areas of strength and weakness in a student's learning profile, and provides a deeper understanding of their educational abilities. It can also identify Attention Deficit Hyperactivity Disorder (ADHD), Developmental Disabilities, reading (dyslexia), writing (dysgraphia) and mathematic (dyscalculia) challenges and other mental health issues (depression or anxiety) that can interfere with learning.
How do I know if my child has hidden challenges?
Students of all ages can face challenges inside the classroom. A psychoeducational assessment diagnoses the root cause of a student's academic and behavioural issues, and identifies a plan for solving the problem.
He would sit in class and break pencils. The school would call and say that he's being aggressive, but he was just frustrated. His teachers didn't understand how to present material in the way he needed to learn.
Common signs of hidden challenges include:
Low grades on report cards
Disruptive behaviour or difficulty focusing during class
Difficulty completing schoolwork on-time
Feeling overwhelmed or anxious at school or during exams
Not achieving results at full potential
Bullying or rejection at school
Students facing one or more of these issues may have an un-diagnosed learning disability or other hidden challenges.
I knew something was wrong, but I didn't know what to do. Someone suggested he might have learning difficulties, so I started to research online. After reading about common signs of hidden learning challenges, things began to make sense.
The hidden challenges checklist
The signs of a learning disability often become apparent at an early age, but change as students progress through school.
Preschool
Speaks later than classmates
Often unable to find the right word to express themselves
Has trouble learning numbers, alphabet, days of the week, colours
Easily distracted, has difficulty following directions or a routine
Grades K – 4
Confuses basic words (run, eat, want)
Makes consistent reading and spelling errors
Confuses arithmetic signs (+, -. X, /, =)
Slow to learn new skills, relies heavily on memorization
Unstable pencil grip
Trouble learning about time
Grades 5 – 8
Reverses letter sequences (soiled/solid, left/felt)
Hates to read aloud
Has difficulty making friends
Struggles in writing essays or stories
Learns at a slower pace than their classmates
Highschool, Post-Secondary and Mature Students
Difficulty completing homework and major assignments on-time
Difficulty organizing and writing longer essays
Poor understanding of basic math (multiplication, division)
High levels of stress and anxiety during and after school
Reading and writing form the foundation of a student's academic aptitude. An un-diagnosed learning disability can have a long-term effect on a student's future academic performance.

Ilan hated going to school, and his teachers complained that he was being disruptive in class. After an assessment at JVS Toronto, he realized he had a learning disability. With the help of JVS Toronto, his mother Susan was able to work with Ilan's school teachers to overcome his challenges in the classroom and ensure that his disability did not get in the way of his success.
How does a Psychoeducational Assessment help students improve their grades?
A psychoeducational assessment will diagnose a student's learning or behavioural challenges, identify if a learning disability is present, and provide clear recommendations on using their strengths to improve their academic performance.
Psychoeducational assessments identify:
Educational needs
Areas of strength
Learning aptitudes, information processing, academic skills and other influences on school or work success
Challenges including Learning Disabilities, Attention Deficit Hyperactivity Disorder (ADHD), Anxiety and Depression
Specific factors that may be interfering with your learning or occupational success
The level of understanding and insight that we gained from the assessment on my child was quite incredible. We were finally able to understand a lot of the issues that were coming up in school.
A psychoeducational assessment also provides the necessary documentation for seeking educational accommodations from schools or employers. Educational accommodations are designed to help students manage their challenges and achieve their full potential.
Common academic accommodations include:
More time to complete tests and exams
Access to a laptop and specialized software (Word to Text, etc.) in the classroom
Access to audiobooks for course texts or material
Option of having multiple choice tests or exams
Taking tests or exams in a quiet or private supervised environment
More frequent breaks from class
Breaking up work or assignments into smaller components
How long does a Psychoeducational Assessment take?
In order to create a full understanding of a student's learning and behaviour profile, our assessment process is split across three half-day sessions.
Before the first session we send you a background questionnaire to complete at home. You will bring the completed questionnaire to your first session, which will provide the starting point for the assessment process.
Each assessment follows the same process, but the specific tests given during the assessment are customized to the unique needs of each student.
---
Session 1
Cognitive & Behavioural Testing
We examine how your child reasons and solves problems, and test their memory and organizational skills. We also examine mental health for signs of anxiety, stress or sadness. These assessments will show us how your child thinks and "gets things done".
Session 2
Academic Testing
These tests are designed to discover academic abilities such as reading, writing and math. This session determines specific learning strengths and challenges compared to other students of the same age.
Session 3
Feedback and Review
We review the results of the tests with you, and give you the opportunity to provide feedback to the assessor. Our team will arrange a separate session to explain the tests results to your child in a way they can understand, and will also answer any further questions you may have.
Each report is completed five weeks after the second session and contains the complete results of your psychoeducational assessment.
At the end of session 3, you will have:
1. A clear understanding of your child's academic strengths and challenges
2. A diagnosis of a learning disability, ADHD or developmental disability if present
3. A list of recommended accommodations to seek from schools
4. An action plan for improving academic performance

Jackie had her three children assessed to better understand their strengths and challenges. Through JVS Toronto's psychoeducational assessments she realized her eldest son had ADHD, and was able to clearly understand all of her children's learning needs and abilities.
About our team
We have been delivering psychoeducational assessments in Toronto and York Region for over 50 years. Our team is made up of trained psychological professionals who are qualified to diagnose learning challenges and disabilities.
Professionals on our staff include:
Psychologists & Psychological Associates
Psychoeducational Consultants
Psychometrists
Your child's psychoeducational assessment will be delivered by a Psychoeducational Consultant. All our reports are peer reviewed by qualified professionals.
I'm convinced that if we went elsewhere, he would have been put on medications that he didn't need. Parents need to put the work into finding out what their child needs. Believe in your child, get them the help they need – there's a great chance that they'll turn out just fine!
Book an Assessment
Cogmed Counselling
$1,700
Designed for people with working memory deficits, including those with ADHD and certain learning disabilities.
Improve your memory
Learn to manage challenges specific to ADHD and certain learning disabilities
One-time fee
Psychoeducational Assessment
$2,800
Identify areas of strength and weakness in a student's learning profile. Improve academic performance and access educational accommodations.
Academic profile
Diagnosis of hidden learning challenges
Identify and recommend specific accommodations to improve performance
One-time fee
Psychovocational Assessment
$3,750
Understand your learning and employment profile with a complete psychological assessment that is designed to help you make realistic decisions about educational, training and career options.
Psychological profile
Academic profile
Skills and aptitudes profile
IQ and intellectual assessment
One-time fee
Contact
To know if a Psychoeducational Assessment is the right choice for you or your child, call our office today:
(416) 649-1600
pave@jvstoronto.org
Our offices are open between 9am – 5pm, Monday through Friday.
A short conversation over the phone with our team will identify if an assessment is suitable for you. Bookings are made only after we've identified the your needs and circumstances.
[The assessor] was excellent. I felt she really understood my daughter, and the test results reflected that. Now we can move forward and do what is needed to help her in school." – Parent Testimonial
Read more testimonials
"The report was excellent as well as the feedback to the parents." AHS Teacher Testimonial
"We are very fortunate to have had Wendy Greenbaum conduct our daughter's assessment. She has been outstanding to work with and a key resource for both us and the school to understand how best to maximize our daughter's potential."
Parent of Bialik Hebrew Day School Student
"I am reminded, yet again, how critical you have been in our lives over the past few years. Through you, we have learned so much [that]…we would not have otherwise known. And through you, we have made a friend and a huge supporter and guide for our kids." Parent Testimonial
"I would like to acknowledge Janice's outstanding care, warmth and professionalism. One of the brightest and most insightful women. I am grateful for a job so well done."Parent Testimonial